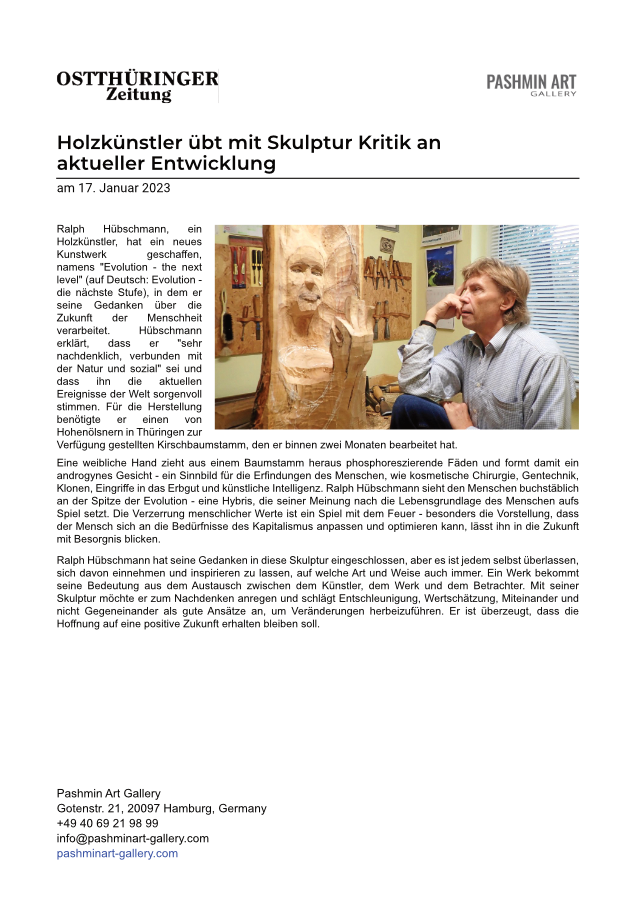 Wood artist criticizes with sculpture the current development
Wood artist Ralph Hübschmann has a new one. What is meant is the wooden sculpture "Evolution-the next level". In the sculpture, Hübschmann processes the current zeitgeist and his concerns about human development.
"I count myself among the very thoughtful, nature-loving and social people. Current world events are causing me great concern." This is how Hübschmann comments on his intention for the sculpture. It is made from a cherry tree trunk that was made available to him by Hohenölsner for his art. It took the artist two months to do it.
A female hand pulls a wooden, androgynous face out of the tree trunk on phosphorescent threads. It is supposed to be a symbol for human inventions such as cosmetic surgery, genetic engineering, cloning, manipulation of the genetic material and artificial intelligence. "Humans literally hold the strings for everything, they put themselves at the forefront of evolution," says Ralph Hübschmann and with this hubris man destroys his own livelihood.
Mankind's urge to influence everything, to shape everything according to his will and advantage, leaves many questions unanswered and I don't look positively into the future," says the artist. "Distorted values are playing with fire." It is precisely the idea that man can perhaps optimize himself to such an extent that he fulfills the respective requirements according to the needs and gusto of capitalism that frightens him.
"I incorporated all of that into the sculpture." But, of course, it is up to each viewer to be touched by the sculpture, in whatever way. This, he says, is precisely implemented in art; that the true meaning of a work in the interstices between the artist, the work and the viewer to stimulate he wants with this sculpture. "Deceleration, values and appreciation, togetherness not against each other would certainly be good approaches to bring about positive change. Hope for a positive future dies last," says Ralph Hübschmann.