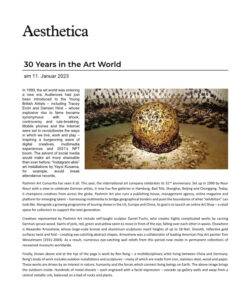 Aesthetica – 30 Years in the Art World – Jauary 2023
In 1990, a new era began in the art world. The public had just been introduced to Young British Artists – including Tracey Emin and Damien Hirst – whose explosive rise became synonymous with shock, controversy and rule-breaking. Cell phones and the Internet were imminent, inspiring a burgeoning wave of digital creatives, multimedia experiences, and the NFT boom of 2021. The advent of social media would make art more accessible than ever before; "Instagram-enabled" art installations by Yayoi Kusama, for example, would break attendance records.
Pashmin Art Consortia is an international art company that has been successfully marketing artworks for 32 years. Founded by Nour Nouri to promote German artists, it now operates galleries in Hamburg, Bad Tölz, Shanghai, Beijing and Chongqing. Pashmin Art continues to champion creatives from around the world and operates a publishing house and management agency. There is also the online Global Art Magazine and a webpage for emerging artists – all multimedia offerings that transcend geographical boundaries and expand the limits of the term "exhibition." In addition to traveling exhibitions in the U.S., Europe and China, Pashmin Art's goal is to create an online art store – that is, to support a retail space for next-generation collectors.
…read more here
Aesthetica about Pashmin Art Consortia